Do we really need to put on a pillowcase? Why go through all the hassle of changing and washing pillowcases? If we can get the same amount of comfort without one, then why can't we sleep without one?
We can definitely sleep without a pillowcase. But it is highly recommended to use pillowcases and wash them every week – They offer far more health and hygiene benefits.
That's right, pillowcases are invented for good reasons. Let us walk through more in this guide… Beware though, things can get a little disgusting and you may not look at your pillow the same way again.
TABLE OF CONTENTS
WHY USE PILLOWCASES?

No, pillowcases are a lot more than decorative pieces. This "piece of cloth" actually serves to protect the pillow from spills, stains, oil, dirt, dust mites, and other allergens.
PROTECT PILLOW FROM SPILLS & STAINS
Like to chill and drink on the bed? Had an unfortunate accident and spill the drink all over the bed and pillow? Now the pillow is ruined, and you have to buy a new one… If only there was a waterproof pillowcase in the first place.
Either way, all humans will sweat and droll. Imagine all of those going directly onto the pillow, and accumulating over time. Then, imagine sleeping on those for the rest of the pillow's lifespan. If that is not disgusting, I don't know what to call it.
PROTECT PILLOW FROM OIL & DIRT
Fun fact – The face and head rub against the pillow all night long. Do you have any idea how much dead skin, oil, dirt, hair, eyelashes, and dandruff comes off each night? It does not matter even if some insist that the skin is perfectly clean after a nighttime cleansing routine.
Without a pillowcase, all of this "bio gunk" will get accumulated directly onto the pillow night after night. Add environmental dust and dirt to the list. Let's see if it is still a good idea to sleep without a pillowcase.
BARRIER AGAINST DUST MITES & ALLERGENS
Remember "dust, dirt, oil, hair" from 1 minute ago? These will also attract dust mites and insects. Even cause mold to grow in due time. An already funky pillow now gets onto a new level of funkiness.
For you guys who are still thinking "this is OK" – It's not. You have just become the meme character sipping tea in the midst of a fire. Dust mites and allergens can lead to sneezing, coughing, headache, and all kind of health problems.
PILLOWCASES ARE ESSENTIAL FOR HEALTH
If it is not clear by now, Captain Obvious is here to save the day:
Pillowcases are essential for extending the lifespan and function of the pillow.
A cleaner pillow equals better sleep, which results in a happier human.
Of course, remember to change the pillowcase every week, and wash it. This is a small price to pay for ensuring your own health and well-being.
TIPS & BITS

So far so good? Now that you know why pillowcases are so important, here are a couple of tips and bits to keep them clean.
WASH PILLOWCASES REGULARLY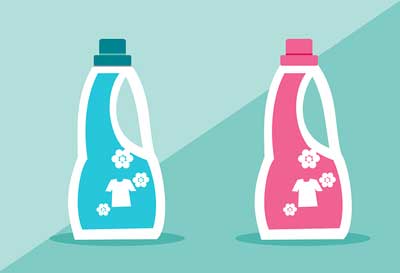 The pillowcase takes in all that dirt, oil, bodily fluid, and stains more than the pillow. Regular washing in hot water is required to get rid of all those harmful particles. But if the pillowcase cannot be washed in hot water, just use anti-bacterial detergents instead. Most will agree that once a week is enough, but germaphobes may prefer to do so more often.
WASH. FABRIC FRESHENERS CAN ONLY DO SO MUCH.
Some of you lazy folks will be thinking again – Let's just use some fabric fresheners and spray anti-bacterial all over the pillow. Well, that helps, but not much. After a while, the pillowcase will still have a build-up of oil and dirt.
You may not be able to see it, but it is there. Ignoring the issue or using a fabric freshener isn't going to help. That layer of dirt can still encourage bacteria and create an unhealthy sleeping surface.
CONSIDER DIFFERENT MATERIALS & DESIGNS
Finally, a pillowcase is not just decorative, it is not just "a piece of protection cloth". Switching to pillowcases of different materials can also change the feel and texture:
Cotton – Cool, absorbent, easy to wash.
Nylon – Easy to wash, quick-dry, but not quite as absorbent.
Linen – Lightweight and breathable.
Satin – Smooth and soft.
Silk – Luxurious and soft. But expensive and can only be hand washed.
THE END

Sure thing, we can sleep without a pillowcase, and they are "optional". But there are complications to your health and well-being. Don't be lazy, slip that pillowcase on, and change it every week. Thank you for reading, and we have come to the end of this guide. Hope you have better nights of sleep, and stay healthy!
LINKS & REFERENCES