So a new gecko "friend" has entered your bedroom, made itself comfortable, and is not leaving? Is it still safe to sleep with a lizard in the room? Do they bite? Are they poisonous? Will they cause trouble or health issues?
It is generally safe to sleep in a bedroom with a lizard, most common house lizards are harmless and are not poisonous. In fact, as some people pointed out – Lizards are great "natural insecticides". They eat other insects, and actually help to keep the pest population down.
Yes, it is understandable that some people cannot stand geckos, but the common house lizard is not a cause for alarm. If you are still concerned, let us address more of it in this article – Read on!
TABLE OF CONTENTS
LIZARDS – THE GOOD

What's so good about the common house lizard? Apart from being harmless, keeping them in the room will actually bring some benefits.
HOUSE LIZARDS ARE NOT POISONOUS
First, let us go through some hard facts. House lizards are not poisonous nor venomous. Neither are there any known cases of "death from a house lizard bite". So rest easy, they are not monsters as some may think.
HOUSE LIZARDS ARE NOT AGGRESSIVE NOR DANGEROUS
The common house lizard is also a timid and cautious little creature, they will usually run away in the presence of a human. When threatened, they will drop their tails as decoys and run away too. It is rare for lizards to go on a full-on clash with a human… Even if they bite, they don't cause a lot of damage.
HOUSE LIZARDS HELP WITH PEST CONTROL
As in the above introduction, lizards will eat all kinds of small insects – Ants, spiders, bugs, flies, etc… Having a lizard in the room can potentially mean that there are "other invaders" in your room, and the lizard deems it as a good hunting spot for food.
Keeping that lizard in your room will surely help to do some pest control. The lizard fills its stomach, you get lesser pests. Good deal? But just to keep the record straight – House lizards also eat vegetables, fruits, rice, and left-over food bits. So yep, make sure that you maintain basic hygiene in your room.
LIZARDS – THE BAD

Of course, lizards are still commonly seen as uninvited guests in most households. There are various reasons why you should be cautious with these little creatures.
LIZARDS DO POOP
While the little critter is not poisonous, they are still creations of nature, and they… poop everywhere. It's not like lizards can be toilet trained as pets do, so clearing the poop on a regular basis can get rather irritating.
Also, we all know what happens when the bedroom turns into a "lizard toilet". Funky bacterial start to grow out of hand, and all kinds of health issues will surely follow along.
LIZARD IN THE EAR
Most lizards will prefer to stay away from humans, and they are generally too big to enter the "human crevices" anyway. But the universe is a place full of endless possibilities… There are a few "oddballs" in the animal kingdom, as in the human world.
Although rare, there are recorded cases of baby lizards entering the ears of humans during sleep and even myths of people swallowing suicidal lizards alive during sleep. Eww.
HOW TO GET RID OF HOUSE LIZARDS
If you decide that the gecko is an unwanted pest, there are many options to get rid of it.
An efficient (but some say inhumane) way of removing lizards is to use a glue trap. Just leave the trap in the room, and wait for the lizard to get stuck on the sticky glue pad… Dispose of it afterward.
If you don't want to kill the lizard, there are also other "humane traps". They just trap the lizard in a box, so that you can free them into the wild later. But do it far far away, so they don't return.
Lizards are probably attracted to your room because there is food, water, and shelter. Remove those, and lizards will leave.
Lizards hate pepper, chili, hot sauce, and onions. Use these as "natural barriers" at windows and doors so they don't enter the room, or use these to drive them out of the room.
THE POISONOUS/VENOMOUS LIZARDS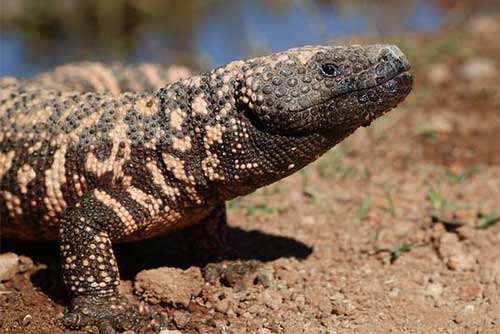 Lastly, before we end – Let us address the elephant in the room. We are referring to the common household lizard in this post. If you have a wild large gecko (Gila Monster, Komodo Dragon, Beaded Lizard) in the room, it is best to call animal control for help.
These large lizards are poisonous/venomous, they get aggressive when provoked, and can cause some serious injuries. So if you don't have any experience handling these reptiles, it is best to leave them alone and let the professionals do the job.
THE END

Thank you for reading, and we have come to the end of this short guide. I hope it has helped to answer your doubts. Good luck and have better nights of sleep!
LINKS & REFERENCES