So you may be considering a folding bed to save space for a small bedroom, keep it as a spare guest bed, or use it on a camping trip. But the burning question is – What kinds of folding beds are there and are they comfortable? How do they compare to the "regular beds"?
A murphy bed with a spring or memory foam mattress can arguably be the most comfortable type of folding bed. But we can literally layer any folding bed with sheets, comforters, and pillows to make them comfortable.
Yes, rest easy if you are thinking that folding beds are uncomfortable. Some hotels do use folding beds as extra guest beds. For the guys who are planning a camping trip, don't worry, there are plenty of nice camping beds as well. Read on!
TABLE OF CONTENTS
TYPES OF FOLDING BEDS

All right, let us start with a quick section on the types of folding beds. Yes, there are folding beds that are "portable lightweight", and those that are more "fixed".
1) MURPHY BED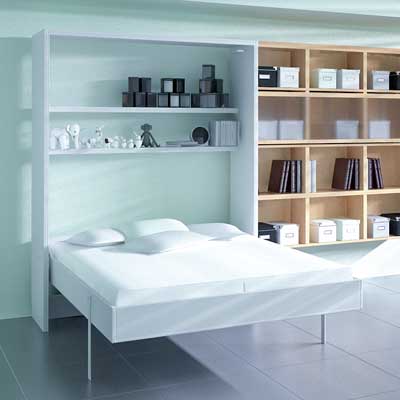 Good – Can use a "standard mattress", just as good as any "normal bed". Hides into the wall or furniture when not in use.
Bad – Fixed to the location, difficult to move. Can be very expensive.
Sometimes also known as a "wall bed" or "hidden bed", murphy beds are pretty much just a "normal bed frame" that is made to fold into the wall or furniture. Perfect to maximize the use of small spaces – Folds up to become an office during the day, folds down to become a bed.
2) ROLLAWAY FOLDING BED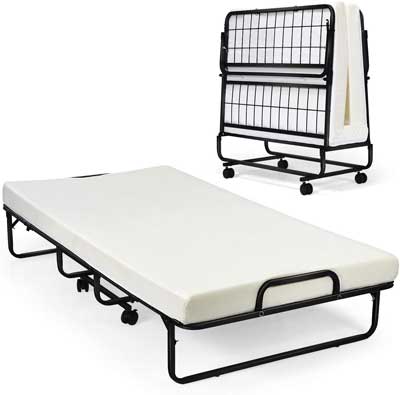 Good – Provides good comfort, can be folded and moved quite easily.
Bad – The mattress is "specialized", and a replacement can be expensive.
This is what some hotels use, the mattress can be folded and rolled away. Add some nice sheets, blankets, comforter, and pillows – They can be made very comfortable. Although depending on the design, the mattress can be expensive to replace. That will require one that is specially made to fold according to the frame.
3) SOFABED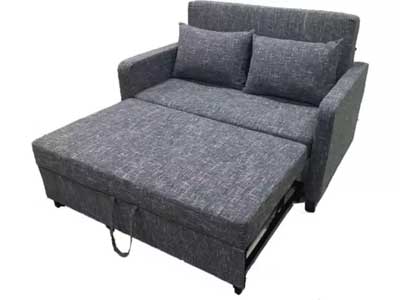 Good – Can be quickly transformed between sofa and bed. Dual-use, space-saving.
Bad – Not really the most comfortable… Can get unhygienic over time without proper cleaning and maintenance.
A sofa and a bed, 2-in-1. Perfect as a "hidden" guest bed that does not take up a lot of space. But this can get pretty funky over time if not maintained properly – With people sitting, farting, and maybe adding some popcorn bits to the sofa bed.
4) FLOOR SOFABED (BED COUCH)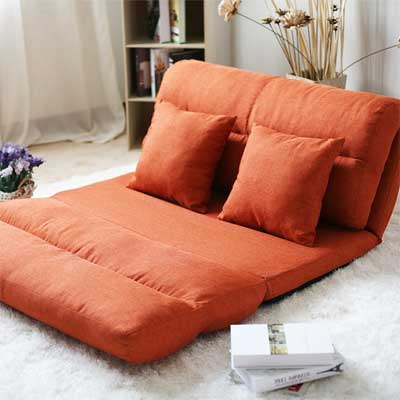 Good – Easily foldable, washable, portable. Does not take up a lot of space.
Bad – Not very comfortable for sleeping.
This is the so-called "foldable floor version" of the sofabed, as inspired by Japanese futons. They fold up to become a couch and folds down to become a futon bed. If you have enough space in the wardrobe, they can be totally kept away as well.  Although not the best to sleep on, put a fluffy rug underneath and use a comforter – They can be made decent as well.
5) FUTON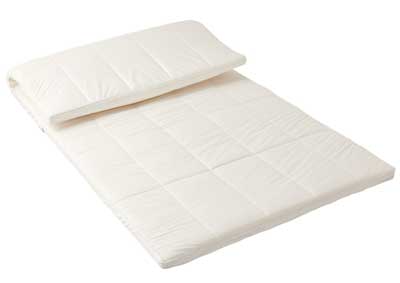 Good – Portable, extremely good for space-saving. Easy to wash and maintain.
Bad – Some people may not like to sleep on the floor.
The traditional Japanese futon. Just roll and keep inside the wardrobe, very good for space-saving, very easy to clean too. A few people may think that futons are thin and uncomfortable, but some futons are surprisingly good. It just needs some getting used to.
6) CAMPING COT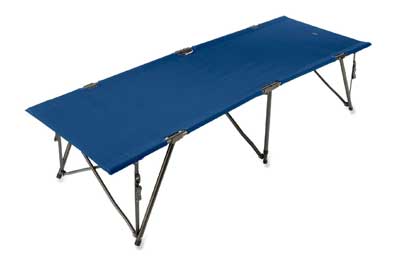 Good – Super lightweight and portable.
Bad – Pretty much just a piece to keep you off the ground.
One of the camper's best friends. Although not the most comfortable, this will at least keep you off the ground… Not sleep on the cold soggy floor.
WHICH IS THE MOST COMFORTABLE FOLDING BED?
Murphy bed – Literally a regular mattress on a folding bed frame.
Rollaway bed – Good foldable mattress on a folding frame.
Futon/floor sofabed – Traditional comfort.
Sofabed – Works decently well as a guest bed.
Camping Cot – Better than sleeping on the ground.
COMFORT TIPS

So far so good? Let us now get into a few ideas on how to maximize the comfort level of a folding bed.
LAYER THE BED
A folding bed is still a bed. The mattress aside, we can add a couple more layers to boost the comfort level:
A mattress cover or mattress pad – A thin quilt layer to provide some extra softness and protection for the mattress.
Fitted sheet – Covers over the mattress pad. Adds another layer of protection to the mattress.
Flat sheet – The "top piece", the one that we change and wash weekly.
Blankets, duvet, comforter, pillows.
"LAYERING" CAMPING COTS
The camping cot is not comfortable by itself, and I have seen people "stacking" their camp beds before:
Putting a futon or air mattress on top of the camping cot.
Or a groundsheet, air mattress, then a sleeping bag.
FABRIC MATERIAL
Lastly, Captain Obvious to the rescue. Sleeping on rough fabrics such as Burlap is not going to help. Sleeping on "plasticky", non-breathable polyester or nylon cloth is not going to help on hot days. Choose your fabric material wisely.
THE END

Thank you for reading, and we have come to the end of this guide. We hope this guide has helped you – Stay healthy and have good nights of sleep!
USEFUL LINKS & REFERENCES