So the seasonal change has come, and it is time to pull those off-season blankets and bedding out from storage. Now, everyone loves to have crisp and fresh blankets, and it is a nightmare when they come out of storage smelling all musty and moldy.
Just what is happening here? Weren't the blankets already washed before storage? How did they "turn bad" in storage? Before the same mistake is repeated again, let us walk through some simple tips and the correct ways to keep your blankets fresh in storage – Read on!
1) PROPERLY WASH & DRY BEFORE STORAGE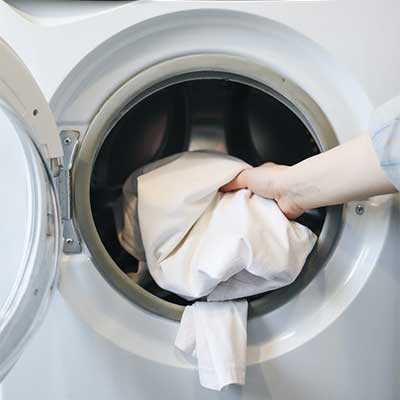 Whether you wash the blankets at home or dry clean them at a laundromat, take extra care to ensure that no dirt is left behind and they are absolutely dry. A common reason why blankets "stink in storage" is caused by improper washing and drying. Be it a small stain spot is that is missed out, or pockets of moisture that are not dried properly – They become the best medium for mold to grow and bacteria to flourish.
These, in turn, result in the unwelcomed pungent and musty smell over time. To prevent such tragedies, it is best to not just put the blankets in the dryer, but also spread them out afterward. Let them air to make sure there are no hidden pockets of moisture.
2) DON'T STORE IN PLASTIC OR VACUUM SEAL BAGS
This is another common mistake that some people make, storing blankets in a sealed vacuum bag to "occupy less space" and "better protect them". But it is quite the contrary actually, plastic bags do the opposite to ruin your efforts to keep the blankets dry and mold-free.
You see, plastic bags are not breathable. They trap moisture, create the perfect closed environment to promote mold and bacteria growth. Over time, the fabrics also tend to "soak up" all the funky smells. So say no to plastic bags, use a breathable cotton one instead.
3) AVOID MOTHBALLS!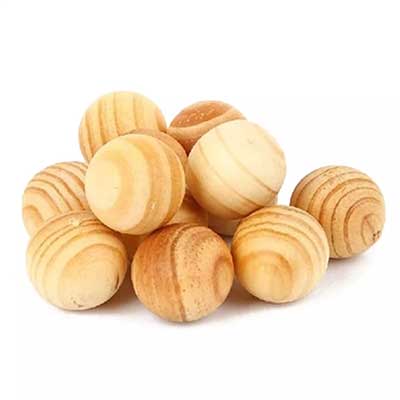 While mothballs are good repellents to keep off pests such as rats and cockroaches from for your blankets, they aren't the best storage companions either. Pretty sure you already know why. Mothballs contain naphthalene that may stain your blankets, and they stink real bad.
If you have a pest problem, there are plenty of natural repellent alternatives – Natural Cedarwood, essential oils, and herbal repellents.
4) ODOR ABSORBER – PUT A BAMBOO CHARCOAL PACK INTO THE STORAGE BAG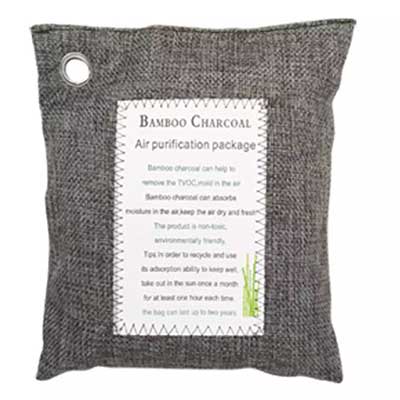 While we are still on the topic of odors, there are also good products we can use to fight the stink. One of the most traditional and reliable products is bamboo charcoal. Just put a small pack into the storage bag along with the blankets, or pop some into the storage cabinet.
Bamboo charcoal is known to dehumidify the air and has exceptional prowess to absorb unpleasant smells – That will definitely help to keep your blankets fresh for a longer period of time. Just remember to swap the "depleted" bamboo charcoal after a few months, if you intend to store it for long periods.
5) FIND A GOOD STORAGE AREA FOR THE BLANKETS
The storage bag is not the only culprit that may cause putrid smells, where you store the blankets is also very important. A warm and damp storage area will definitely turn into a hotbed for mold and mildew paradise.
So try to find a dry and cool place to store your blankets, ideal places to consider are under-bed storage and wardrobes or perforated cabinets that allow for good air circulation. If you have the money or want to go to the extremes, buy yourself a dry box that will better help with the storage conditions.
6) USE ACID-FREE ARCHIVAL BOXES FOR STORING BLANKETS
For those who have never heard of it, acid-free archival boxes are actually meant for storing photographs, letters, documents, and books for the long term. What's so great about archival boxes is that – They are excellent as an alternative blanket storage box.
7) USE BLANKET HANGERS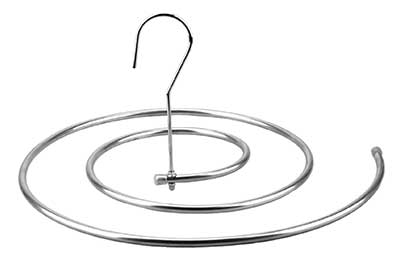 If you have extra space in your wardrobe, then consider getting one of these blanket hangers instead of stuffing the blankets into a box somewhere. These spiral hangers will ensure air circulation, bacteria and mold won't find it easy to nourish.
THE END
Thank you for reading, and we have come to the end of this short guide. By now, you should have caught the drift – The bottom line for keeping blankets fresh in storage is to make sure it is dry and clean before storing, make sure the storage area is well-protected, and has proper ventilation. I hope it has helped to answer your doubts. Good luck and have better nights of sleep!
LINKS & REFERENCES