It is common knowledge that soothing music helps with a night of better quality sleep. But with known cases of freak accidents and deaths resulting from sleeping with damaged wired earphones – Is it all right to sleep with the wireless AirPods? Are they any safer?
Sleeping with AirPods once in a while is considered generally safe. But it can cause various hearing issues for extended periods of time, especially when it comes to sleeping with loud music. Not to mention that prolonged exposure to wireless signals can be really bad.
So just how do earphones affect our sleep? Are they really that bad? Are they effective in helping people sleep? What alternatives are there? Read on to find out!
TABLE OF CONTENTS
HOW SLEEPING WITH AIRPODS AFFECT HEALTH

Just how bad can "Airpods inside ears for long periods" be? Let us explore the effects in this section.
UNHYGIENIC & CAUSES EAR INFECTIONS
Some say that ear wax building up from the long usage of earphones is a myth. But there's one thing we can all be sure of – AirPods get dirty over time and accumulate a lot of dirt. Putting those dirty earphones into your ears while you sleep? For long hours? That sounds like a recipe for disaster and ear infection.
TINNITUS & HEARING LOSS
Tinnitus is the perception of noise or ringing in the ears.
In simple terms, there are tiny hairs in our ears to transform sound waves into nerve signals, which will then be interpreted by the brain. Loud sounds cause damage to these hearing organs and result in ringing in the ears (Tinnitus). Keep up with that long enough, and it will develop into permanent hearing damage or even hearing loss.
ACCIDENTALLY SWALLOWING THE AIRPODS
If you have not already heard of the hilarious news – Someone accidentally swallowed an AirPod during sleep. Thankfully, the AirPod came out naturally from behind and it still works perfectly… If not smelling a little funky. As funny as this may sound, this can actually be a dangerous situation. Imagine choking on an AirPod in the middle of the night? Not fun.
DOES LOWERING THE VOLUME HELP?
Of course, it does! According to the ASHA (America Speech-Language-Hearing Association), listening to loud sounds above 85 dBA for 8 hours or more will cause damage to our ears. However, when that volume is lowered to 70 dBA or less, the risk becomes significantly lesser.
So always remember to turn that volume down – As long as it is audible, it is good enough. If you want to block out the environmental noises, it is not about blasting loud music. Go get a pair of earphones with better active/passive noise cancellation instead.
CAN PROLONGED WIRELESS EXPOSURE CAUSE CANCER?
There are scientists who suggest that AirPods emit higher electromagnetic radiation than regular wired earbuds and some other wireless earpieces. No, it is not enough to cause cancer overnight, nor will it fry brains immediately – AirPods are still safe to use for short periods of time and for general purposes.
But when it comes to sleeping with AirPods and for the long-term, you can be sure that it will not do any good for your health… You are putting a pair of radio devices in your ears after all. So it is highly advised to use wired headphones/earpieces instead if you like to play it safe.
IS IT REALLY EASIER TO SLEEP WITH AIRPODS?

Well, everyone has their own take. But we asked a few people who actually sleep with Airpods, and gathered the general feedback on the Internet.
GOOD NOISE CANCELLATION
Switch on the noise cancellation, and the AirPods actually do a pretty good job in reducing the background noise level. They will not remove all the loud noises, of course, but that does make it much better to sleep with.
NO WIRES TO WORRY ABOUT
With wired earpieces, there is always the worry of pulling on them during sleep and causing damage somewhere. With wireless AirPods, there are no such worries. They are also pretty lightweight and comfortable to wear.
AIRPODS FALLING OFF DURING SLEEP
It is not that easy for AirPods to fall off most of the time. But they still fall off as people toss and roll about in bed… It's not like people sleep with the Airpods glued to the ears or something. As with the above unfortunate accident, the worse fear is actually swallowing the AirPods during sleep.
FLAT BATTERY
Forgot to charge the AirPods before sleeping? The music just stops halfway and it sucks… But it happens, and it causes people to wake up to charge them instead.
ALTERNATIVE SLEEPING AIDS

So after concluding the "polls", more people actually seem to sleep better with AirPods by blocking out environmental noise. But that does not change the fact that AirPods are still radio devices, and not really suitable as a long-term sleeping aid. Here are a few alternatives.
EARPLUGS FOR SLEEP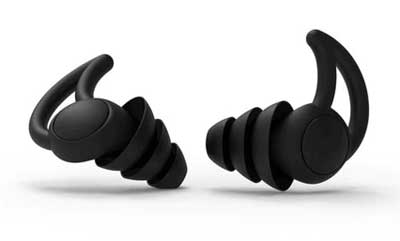 Plain, simple, affordable, and most importantly – These don't run on batteries nor do they emit any harmful radiation. Just remember to wash with soap frequently.
NOISE-CANCELING EARMUFFS
These are typically used in noisy environments for hearing protection, and no, they are not headphones… Although no one is stopping you from wearing earphones underneath. Earmuffs are not the most comfortable to sleep with, but at least they don't rely on batteries to operate.
SLEEP HEADPHONES
These may look like some sort of headband at the first impression, but they are actually "specialized sleep headphones". Contrary to most other earphones that have earplugs poking into the ears during sleep, these are a lot more comfortable, and they double up as eye masks. Two brands to check out are CozyPhones and AcousticSheep (not sponsored).
EXTERNAL SPEAKERS
If you are sleeping in a rather quiet room, then consider switching to an external speaker instead. Although not directly in the ears, soft background music or white noise will do the same to help people sleep – Minus the radiation and harmful side effects.
WHITE NOISE GENERATOR
White noise works by reducing the difference between background sounds and a "peak" sound, like a door slamming, giving you a better chance to sleep through it undisturbed.
If you have not heard of white noise before, it is basically "good noise" that helps people sleep better. Some examples are sounds from a fan, waterfall, rain, or thunder. We can't always depend on nature to rain whenever we want to sleep, but there are white noise generators that you can buy online… Or just download white noise apps on your smartphone. Links below.
WHITE NOISE APPS
Looking for white noise apps? Here are a few of them:
Yep, just do a search for "white noise" and you will find a ton more on the app stores.
THE END

Yes, it is generally safe to sleep with AirPods, but it is also not good in the long term. So go get yourself a safer alternative if you have trouble sleeping. Thank you for reading, and we have come to the end – Have better nights of sleep, and stay healthy!
LINKS & REFERENCES