Electric blankets, a modern-day convenience that many people use on cold nights. Just power it on for instant comfort… But not many are aware of the dangers lurking behind that convenience. Just in the United States alone, experts estimate that there are at least 500 cases of electric blanket fires every year – Electrical Safety Foundation International (ESFI).
Electric blankets do catch on fire, especially the older ones with worn and damaged wiring. Newer designs of electric blankets come with more built-in safety features, but rare occurrences of electrical fires can still happen.
So just what can cause an electric blanket to burn? How can we prevent that? Are they safe to use in the long term? Read on for more!
WHAT CAUSES AN ELECTRIC BLANKET TO BURN!?
Why and how do electric blankets catch on fire? There could be a couple of reasons, ranging from an overheated heating element, to bad insulation, to worn wiring. For the science nerds, the above video by Scheider Electric pretty much explains the unfortunate situation.
Wires and connectors become worn, loose, or broken over time.
This causes overheating and burns the surrounding insulation.
With the applied heat, the insulation material then slowly turns into carbon.
Carbon is a conductor of electricity, effectively rendering the insulation useless.
Electric arcs happen when the electricity flows, and eventually cause a fire to happen.
Long story short, a loose or broken electrical connector will turn slowly into an unintended arc lighter. Not just for an electric blanket, but for any electrical appliance.
HOW TO PREVENT AN ELECTRIC BLANKET FIRE
Thankfully, we have learned and benefitted from the past disastrous events. Most modern electric blankets from reputable brands come with better safety and prevention features "out of the box" – They automatically detect electrical faults, and stop overheating before a fire breaks out. But that does not mean it is 100% safe.
Do your own periodic checks on the electric blanket, take extra note of damaged wires and connections. These can also cause electrical shocks even if a fire does not break out.
If there are "very hot spots" in the electric blanket, it is time to stop using it. The heating pad is probably damaged and cannot regulate temperature properly.
Put the electric blanket on a timer, don't let it run continuously overnight.
Captain Obvious – Take out all the electrical parts and heating pads before washing.
If the electric blanket is older than 10 years, it is a good idea to replace it entirely. Not just for safety reasons, but also for health too.
WHAT TO DO WHAT AN ELECTRICAL FIRE HAPPENS
First, keep calm. I know it's difficult, but panic and not knowing what to do next only make the situation worse.
If possible, unplug or switch off the electric blanket. Don't use your bare hands or anything metallic.
If the fire is small, try to contain it before it spreads. There are many alternatives – The best is a fire extinguisher or fire blanket. If not, baking soda is also a good choice.
Just don't use water on electrical fires, that may cause it to spread even more. Pure water is actually an insulator of electricity, but minerals make them good conductors.
For big fires that are out of control – Run out of the house, call for help.
ELECTRIC BLANKETS ARE STILL NOT SAFE FOR LONG-TERM USAGE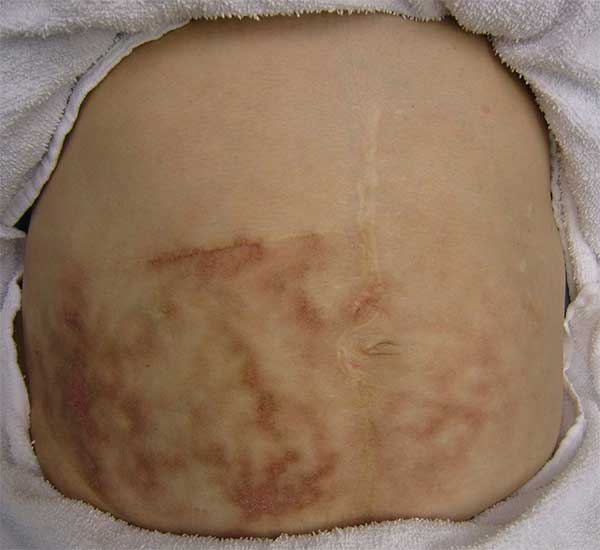 For you guys who are thinking "I don't use old electric blankets, and the new ones should be safe" – Sorry to break the bad news, but electric blankets are not safe for long-term usage at all. Prolonged exposure to infrared heat can cause a condition called "Erythema ab igne", more commonly known as "Toasted Skin" or "Fire Stain".
In simple terms, it's something like "slowly getting toasted alive". You may not feel the extreme heat nor pain immediately, but the damage slowly sets in with the prolonged usage… You will only realize it when things go very wrong the next day. Thankfully, these "burn marks" will usually recover over the next couple of months, when the heat source is removed or toned down.
But in severe cases, medical treatment or surgery will be required… Also, be advised that this can happen with space heaters, fireplaces, and even a hot laptop too.
ELECTRIC BLANKETS ARE NOT SAFE FOR THE ELDERLY EITHER
Lastly, here is an extra recommendation – Avoid using an electric blanket for the elderly folks, especially if they have existing health issues.
Seniors with Alzheimer's or dementia may not be able to tell if it is too hot.
Seniors with Parkinson's or mobility issues cannot remove the electric blanket by themselves if it gets too hot.
Electric blankets are hard to wash and maintain, not good in the long run.
So yes, just look for heating alternatives for the elderly folks instead.
ELECTRIC BLANKETS ARE STILL SAFE TO USE WITHIN LIMITS
After all of these horror stories, some of you guys are probably discouraged from using electric blankets. Yes, they are hard to wash, a hassle to maintain, and there is a small chance they may catch on fire. But that does not mean electric blankets are all bad, they are still very safe to use within reasonable limits.
Let them run long enough to warm the bed, don't use them overnight. Replace the old ones once you spot loose or broken connectors. Thank you for reading, and we have come to the end of this short guide. I hope it has helped to answer your doubts. Good luck and have better nights of sleep!
LINKS & REFERENCES