Going on a camping trip? Have a friend coming over? Air mattresses are a good option – They are affordable, easily available, and portable. They are great, but there is just one problem with inflating the air mattress.
Not everyone has an electric air pump at home, or it is dumb to bring an entire generator just to run an air pump on a camping trip… So just how do we inflate air mattresses? Let us walk through some smart solutions in this guide – Read on!
TABLE OF CONTENTS
INFLATE USING ELECTRICITY

All right, let us now start with the options that involve the use of electricity.
1) PORTABLE AIR PUMP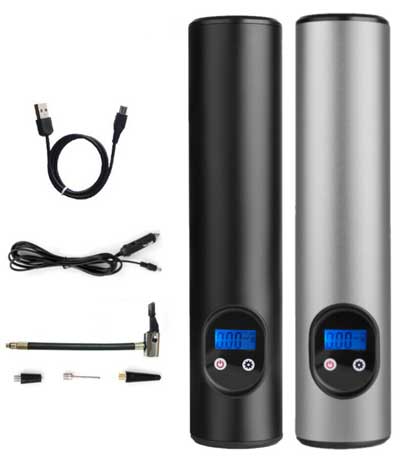 This is the most "Captain Obvious" way to inflate things. But no, we are not referring to those old noisy and bulky air pumps. There are portable ones these days, and they are rechargeable using the very common USB.
2) HAIRDRYER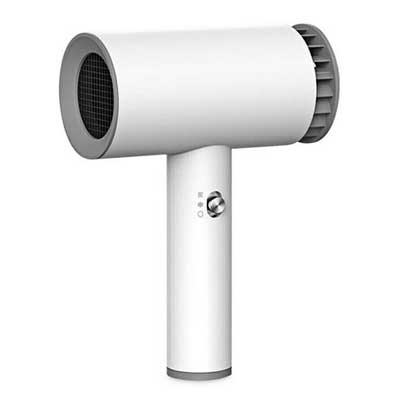 Nearly all households should have one of these, there are also portable and rechargeable ones. As you probably guessed, they are not the most efficient, but they do… blow. Just remember to use cold air and not melt the mattress.
3) VACUUM CLEANER
Vacuum cleaners are also another alternative to air pumps. Things will be a lot easier if you have a reversible vacuum cleaner, just switch it from "suck" to "blow" and you will get an air pump. But if your vacuum cleaner does not have the 'blow' setting, then we will need a little bit of creativity.
Depending on how the vacuum cleaner is designed, we can connect the cleaning nozzle to the hole where the dust bag was originally attached to – Use this nozzle to inflate the air pillow or mattress. Alternatively, we can use a milk carton on the square HEPA filter to "convert" it into an air outlet.
4) LEAF BLOWER
If you have a leaf blower just sitting around, it may be a good alternative too. But one problem with leaf blowers is that they are not made to inflate stuff and have huge nozzles… This can be easily solved by using another "simple DIY adapter", a water funnel.
EXTRA) POWER ON-THE-GO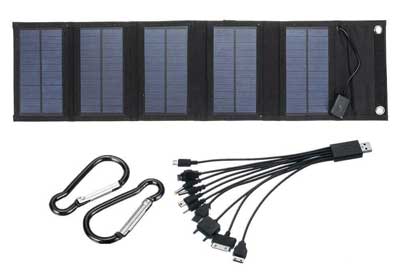 Going on an outdoor trip? Don't want to carry a bulky generator along? Get yourself one of these foldable USB solar panels. It fits into a backpack and provides enough juice to run some common USB appliances.
INFLATE WITHOUT ELECTRICITY

Next, let us get into the ways to inflate an air mattress without using electricity.
5) PLASTIC BAG
This is one hack that I personally like – It is even better than using the noisy electronic air pumps, and all we need is a big plastic bag.
Open the plastic bag fully to collect air.
Wrap the open end of the plastic bag around the air inlet.
Gently squeeze the plastic bag to "transfer" the air into the pillow/mattress.
Keep repeating the same process until the air pillow/mattress is fully inflated.
6) BICYCLE PUMP
If electronics are not an option, then turn back to the good old elbow grease way – Use a portable bicycle pump. This one should be very straightforward, but just make sure that you get a suitable adapter nozzle to fit the bicycle pump nozzle into the air pillow or mattress.
7) SELF-INFLATE MAT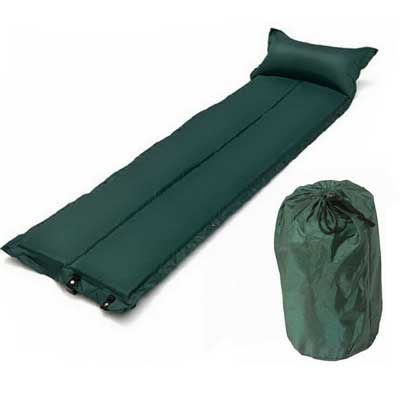 Yes, you read that right. A self-inflating mattress. Technology does wonders.
8) DIY BOTTLE AIR PUMP
Don't want to buy any equipment? Here's how to make a DIY air pump with a plastic bottle, balloon, and some tape.
Remove the cap from the bottle.
Use a marker pen to draw a small rectangle in the center of the cap, then cut it out with a penknife.
Cut out a small piece from the ballon, it must be large enough to cover over the rectangle hole.
Use some tape to stick the ballon cut-out to the cap, in a "U" manner. I.E. Leave one edge open.
Use the penknife to create a small hole in the center of the bottle, then screw the cap back on.
Done. Place the modified cap over whatever you want to inflate, and just pump away.
9) BLOW
If all of the tools mentioned above are somehow not available, your best bet is to exercise your lungs and inflate using your breath instead… Of course, this is only good for the smaller travel pillows, anything larger and you will need to have some kind of crazy air bending skill.
P.S. You might want to wash the air inlet of the air pillow with light soap before use.
THE END

Thank you for reading, and we have come to the end of this guide. We hope this guide has helped you solve the air pump problem – Stay healthy and have good nights of sleep!
LINKS & REFERENCES