In shows and movies, we often see people put fires out by using blankets and coats. So in the unfortunate event of a smartphone or gadget explosion in the middle of sleep, will a blanket be the best emergency tool to put out a fire?
Blankets do catch on fire, but it may not burn immediately depending on which material it is made from. Cotton wool is generally flame resistant, while fleece is easily flammable. Using a cotton blanket may help stop a small fire, but a fleece blanket may cause it to burn more instead.
So yes, movies are movies, facts are different from expectations. Read on if you want to learn more about the "proper ways" to stop fires!
WHICH MATERIALS BURN? WHICH DO NOT?
First things first, here is a simple list of common blanket materials that I have compiled – Which ones are flammable and which are not.
Fire Resistant – Cotton, wool, silk, polyester, nylon, acrylic.
Flammable – Fleece, bamboo, feather.
Now that you know, don't just throw any blanket into a fire… Some will just burn and make things worse. Also, "fire-resistant" does not mean it will not burn, it only means "harder to burn. Blankets can help to put out a small fire, but they do not stop an inferno.
MOST GOOD BEDDINGS ARE TREATED & FIRE-RESISTANT
Either way, there's nothing to worry too much about. Even if the blanket is made of flammable material, most good bedding brands comply with ISO 12952: 2010. Fire-resistant treatment will be done to the blanket, so an accidental cigarette butt is not going to burn down the entire bed.
3 WAYS TO STOP FIRES
Before we proceed, here is a quick "fire trivial" that is often taught in fire safety courses… They are boring but that extra knowledge is always useful. Fire needs 3 things to burn – Fuel, oxygen, and heat. So in order to stop a fire from burning, we have to take one or more out from the equation:
Fuel starvation – Will stop burning when there is nothing left to burn.
Oxygen starvation – No oxygen, cannot combust.
Lower the temperature – Too cold to burn.
What's the big deal with this? Throwing a blanket onto a fire is an attempt to snuff it out with oxygen starvation. But if the blanket is not fire-resistant, it will simply turn into more fuel for burning instead.
DO NOT "BEAT" THE FLAMES WITH A BLANKET
The next negative demonstration in the shows is how people "beat the flames" using a blanket or coat. That is actually a very bad and wrong technique to use. Remember that fire needs oxygen to burn? Beating the fire with a blanket will only fan and feed it with more oxygen – This will just cause the fire to burn more and spread faster.
HOW TO STOP SMALL FIRES USING A BLANKET
The proper way to stop a fire using a blanket is to:
Make sure that the blanket itself is fire resistant.
If possible, wet the blanket.
Cover the burning object under the blanket.
In the case of a… burning person – Wrap the blanket around the person, and ask the unfortunate soul to roll on the floor.
Yes, the whole idea is to snuff the flames out using oxygen starvation. Not to "beat and spread the flames in desperation". Also, be careful with "wet the blanket". If there's electricity involved around the fire, you may want to keep water away instead.
ALTERNATIVE WAYS & ITEMS TO STOP FIRES
A blanket is not the only way, there are also various household items that can stop a small fire.
Wet towels and bathrobes.
Use a metal pot to cover the fire. It will eventually run out of oxygen and stop burning.
Pour baking soda onto the fire. It releases carbon dioxide that may help smother the flames.
Salt doesn't really burn and can help to put the fire out too.
If a potted plant is nearby, a small sacrifice is required. Cover the fire with dirt and pot.
IN THE CASE OF A BIG FIRE…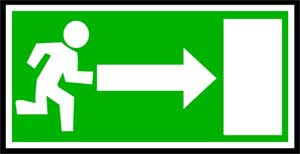 Well, let common sense take over – A small blanket is not going to stop nor put out a big fire. The best way to deal with it is to run to a safe place. Wet the blanket if possible, use it as a protective cover for yourself instead. Exit the building if you can and call for help.
THE END
Thank you for reading, and we have come to the end of this short guide. I hope it has helped you to better understand. Good luck, stay safe, and have better nights of sleep!
LINKS & REFERENCES